Snow Leopard Trek
February 05th – 16th, 2021
Wildlife Photography Tour of Spiti in Winter – In the trails of the Grey Ghost.
Explore the high frozen Himalayas of Spiti Valley in search of the elusive Snow Leopard.
Location: Kibber Wildlife Sanctuary
Vacation Style Holiday Type

Hiking

Mountain

Snow & Ice

Snow Leopard

Photography, Trekking, Wildlife
All about the
Snow Leopard Trek
February 05th – 16th, 2021.
Snow Leopard Trek is one of the most sought after winter treks, slowly becoming popular in our country. And one of the main attractions of Spiti is the Snow Leopard – one of nature's most beautiful animals, but as elusive as the mythical Yeti.
Safari Monks takes you on an adventure to the hidden jewel in the Himalayas – Spiti – in the winter of 2021. Temperatures plummet way below freezing and a white blanket of snow covers most parts of this primeval landscape. The herbivores descend from the highest reaches of the mountains in search of food and water. And, following its prey, so does the Snow Leopard, across the snow covered terrain to Kibber National Park and Pin Forest reserve .
Along with snow leopards, you can spot blue sheep, argali, Tibetan wolf, Eurasian brown bear, Himalayan marmot, mountain weasel and Himalayan mouse hare.
A breathtaking journey through one of the last outposts of India, unravaged by civilisation. Wander along picturesque, yet remote villages, visit monasteries dating back a thousand years, meet amazingly warm and kind people who live in the severest of conditions, and experience an eclectic culture and cuisine.
The trip is scheduled from 2nd – 12th March 2021. Stay has been arranged at homestays to give you a peek into the local life. You will be accompanied by our well-equipped team comprising spotters, guides, cooks and helpers with essentials and luxuries.
The tour package inclusions and exclusions at a glance
What is included in this tour?
Items that are included in the cost of tour price.
Stay as per the itinerary. (Homestay at Kibber)
All meals – breakfast, lunch, Dinner
Customised meals to suit your tastes
Room Heaters/hot water bags, provision of electricity at stay place.
Experiences at each destination as specified in the itinerary.
Trained spotters to go ahead
Agency representatives accompanying the team always in a lead vehicle.
Travel in Taveras/Safari (3-4 guests in a vehicle) all through the route.
Provision of enroute refreshments.
What is not included in this tour?
Items that are not included in the cost of tour price.
Flights/Trains into Chandigarh and out of Chandigarh (This can be arranged by us at flight costs prevalent at the time of confirmation).
Inner Line Permit fees for foreign nationals, if any.
Refreshments at non-scheduled stops during the journey.
Any Expenses, personal in nature, like laundry, tipping etc.
Shopping expenses, adventure activities, etc if any.
Alcoholic Beverages or any related expenses.
Personal Accident/ Medical Insurance Cover, as per the individual's requirements.
Any extensions in stay, self chosen or due to circumstances beyond our control.
Anything else not present in list of inclusions.
Day 1

Pickup from Chandigarh.

Today we start the journey from Chandigarh by 10:00 AM and proceed towards Rampur.

Trippers who are flying down to Chandigarh or travelling by train, are requested to reach Chandigarh by 9:00 AM on 2nd March 2019.

Overnight at Rampur Bushahr.

Day 2

Leave from Rampur Bushahr.

We start our day early and leave for Kibber. It's a long journey but takes you through mesmerising snow clad landscapes. This terrain is perfect for wildlife sightings like blue sheep, ibex and red foxes. We reach Kibber by late evening.

Overnight at Red Fox Lodge, Kibber.

Day 3

Rest day in Kibber for acclimatization.

Kibber, at 14,000 feet, is a high altitude village. We rest for the day, trying to acclimatize, and get ready for the adventure that awaits you in the following days!

Overnight at Red Fox Lodge, Kibber.

Day 4-9

7 Days of Hiking and Photography.

After proper rest, the main event starts- the search for the elusive Snow Leopard.

We explore Spiti Valley for Snow Leopard and other wildlife. Plan would vary based on sighting records at the time of the tour.

Overnight stays at Red Fox Lodge, Kibber.

Day 10

Rest at Rampur Bushahr.

The journey back to home starts!

We leave from Kibber early morning towards Rampur. On the road there is a good chance that we encounter some of the high altitude birds and other mammals.

Overnight at Rampur Bushahr.

Day 11

Trip Ends at Chandigarh.

After a good night's sleep we leave in the morning for Chandigarh.

We reach Chandigarh by late afternoon and bid farewell to each other with lot of memories!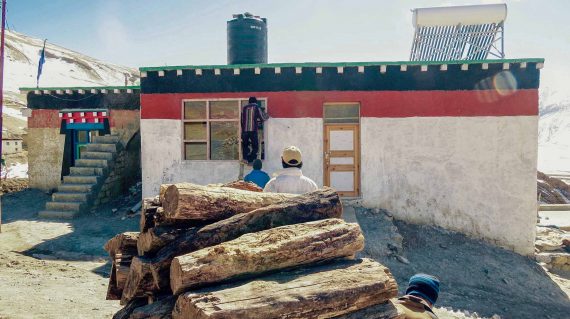 The Home-stays and Lodges
The Red Fox Homestay, will be your home to the snow leopard expedition in Kibber Village (14,000ft), the most ideal and convenient home-stay to stay at in Kibber.
If you seek to experience a true Spitian culture, spend your days in the homes of the people of Spiti rather than confining yourself to your hotel room. At our homestay, we have open the doors to the guests who find their way to this surrealistic place with its vast expanses of untamed beauty. The traditional living room and the bedrooms are equipped with the room heaters to ensure you a cosy stay. Sit around with the hosts and acquaint yourself with the lives of folks in Spiti. If you need some help regarding an expedition into the wild, feel free to ask us and we will be happy to assist you.
Let this be your mantra: Experience Spiti like a local. Wander like a nomad.
Red Fox Resort
Homestay at Spiti
During this tour, we may encounter temperatures as low as -25°C or even lower. The only way to manage such low temperatures is to be very well equipped. We will send you a list of must-have equipment that will help you face the cold weather. When you are well-equipped, you should be able to fight the cold weather well after your body gets acclimatized in a day or two. There would still be some discomfort but nothing that would prevent you from actively enjoying the tour.
However, this tour is not recommended for those who are very sensitive to cold weather. Also, a reasonable degree of fitness (equivalent of being able to walk a few kilometers in normal conditions) is desirable for this long tour.
Yes. If you are interested to explore the pristine Himalayan landscapes and view rare alpine wildlife, you are welcome to join this tour.  Please note that we do not offer a separate non-photographer pricing.
To track the Snow Leopard, moderate walking (2-3 hours) may be required to reach places where wildlife sightings are reported. Basic fitness is required as we'll be at an altitude of over 14,000 feet. We believe that most people in good health should not have any problems with most of the activities through the tour. Please speak to us if you have any doubts.
On this tour, we'll primarily focus on photographing wildlife of Spiti. For this, telephoto lenses are recommended to photograph wildlife at a distance. We'll also be photographing landscapes and culture when the opportunities present themselves. Please talk to us to decide on the photography equipment that you need to carry for the tour.
If you need help in carrying your equipment during the tour, we can engage porters locally.