Bandhavgarh Green Season
June 3rd – June 6th, 2021
Explore the most prized fauna of India this winter, in the heartland of the country.
Drive with us to Bandhavgarh Tiger Reserve in search of the mighty Bengal Tigers.
Dates: June 3-6, 2021.
Location: Bandhavgarh National Park
Vacation Style Holiday Type

Jungle

Leopard

Tiger

Wildlife

Family, Photography, Wildlife
All about the
Bandhavgarh Green Season
June 3rd – June 6th, 2021.
Located between the Vindhya and Satpura mountain ranges, Bandhavgarh National Park has always been associated with its tiger population, even long before it was turned into a tiger reserve. One of the most unique elements of the reserve is the abundance of historical attributes scattered across its expanse. The Bandhavgarh Fort is one of the most prominent landmarks in the area, with a story of its own. Bandhav translate to mean brother, and legend has it that the fort was given to Lakshman by his brother Lord Ram, hence the name Bandhavgarh.
Once the hunting preserve of the erstwhile rulers of Rewa State, this tiger's playground encompasses three major points of interest including wildlife, archaeology and a breathtaking landscape, of which the wildlife is the star attraction. Those who come to observe the wild cat in its natural habitat can easily make sightings of the animal and its habitat and behavioural patterns. Aside from the tiger, one can easily spot sambar, spotted deer, chowsingha, nilgai, chinkara, sloth bear, jackal, hyena, langur, a large number of reptiles and over 240 species of avifauna. Bandhavgarh National Park was the former hunting ground of the Maharaja of Rewa and at present is a famous natural hub for bengal tigers. White tigers, now a major attraction around the world's zoos, were first discovered in Rewa, not far from here.
The tour package inclusions and exclusions at a glance
What is included in this tour?
Items that are included in the cost of tour price.
Twin-sharing accommodation in comfortable rooms unless single occupancy purchased at extra cost.
All meals (breakfast, lunch and dinner) and hot beverages (coffee and tea)
All entry fees, guide fees and safaris
Transfers from Jabalpur Airport, Katni/Umaria Railway Station and Back
What is not included in this tour?
Items that are not included in the cost of tour price.
Any airfare
Any kind of personal expenses or optional tours or extra meals ordered
Insurance, laundry and phone calls
Bottled water, soft drinks and alcoholic beverages
Additional safaris into the park
Medical Costs
Tips and gratuities
All applicable taxes
Anything that is not included in the inclusions list
Day 1

Pickup from Jabalpur/Umaria.

Participants reach Jabalpur and cab picks them up at a designated time and we drive to Bandhavgarh, in about four hours. After checking in, we are met by the Skipper and get to know one another. Following an appetizing dinner and a round of mutual introduction, our Skipper will brief the group on the plans for the upcoming days. We learn about the natural history of the park and the tourist rules. An early sleep is recommended to get up fresh for the action following the next day.

Day 2 & 3

Morning and Afternoon Safaris and overnight in Bandhavgarh

For the next two days, we follow the same schedule in pursuit of tiger photography opportunities.

After a morning wakeup-call and morning tea opens the day, we reach the park gate at the earliest possible and be one of the first to enter when it opens. This will allow us to look for pugmarks and other fresh signs of any tiger movement to track the big cats, and also put us in a vantage position for viewing and photography, should the tiger luck shines upon us. Tigers are at their most active during the early hours of dawn and late hours of dusk, so we seek to utilize the first hour of the ride to the most.

The morning safari lasts for four hours, giving us a chance not only to find tigers but also see and photograph many other inhabitants of this reserve. We head back to the resort for rejuvenating breakfast.

Lunch will be followed by the second safari. Afternoons are great for bird-watching, and while we wait for tigers to start moving, your Skipper will constantly monitor the situation and strategize with the guide and the driver to maximize tiger sighting opportunities.

After the evening round we come back to the resort and go for a good night sleep after a lovely dinner.

Day 4

Morning Safari in Bandhavgarh and Check out

After enjoying morning safari in Bandhavgarh, we check out of our lodge after having a good breakfast. We are transferred to Jabalpur or Umaria for the return journey home with fascinating memories to share with our families and friends!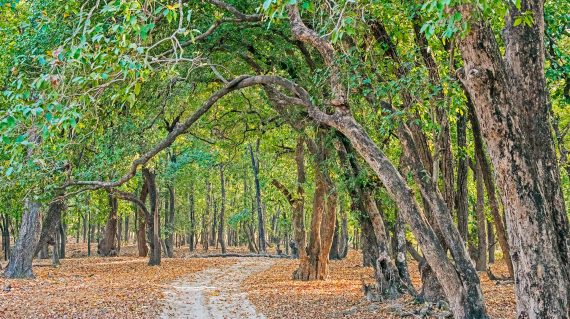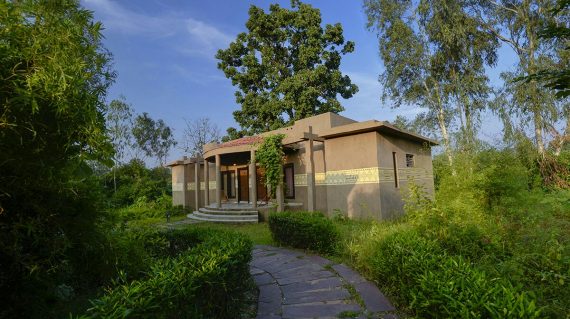 Spread in a sprawling 10 acres of land, the resort is about 10 minutes away from the main Tala gate.
16 elegantly furnished, air-conditioned cottages, with personal verandah and garden will certainly bond you with the place for a lifetime, luxurious bathrooms just add to your comfort.
You will find Bamboo Furniture in your rooms. Also, Handcrafted furniture from Bastar of exotic Indian timber in the Common dining area will amaze you for sure. For the true village feel the cottages are mud-coloured and have rafters. Each suite has a bedroom, separate dressing area, shower and an open roof bathroom.
Swimming pool, meditation and Yoga room, Amphitheatre are included along with modern and basic amenities of the Resort. Wake up in the morning with the picturesque view of fog covered Vindhya Mountain Range from your window.
Undoubtedly one of the finest wildlife Resorts in Bandhavgarh, it is managed by professionals from the service industry.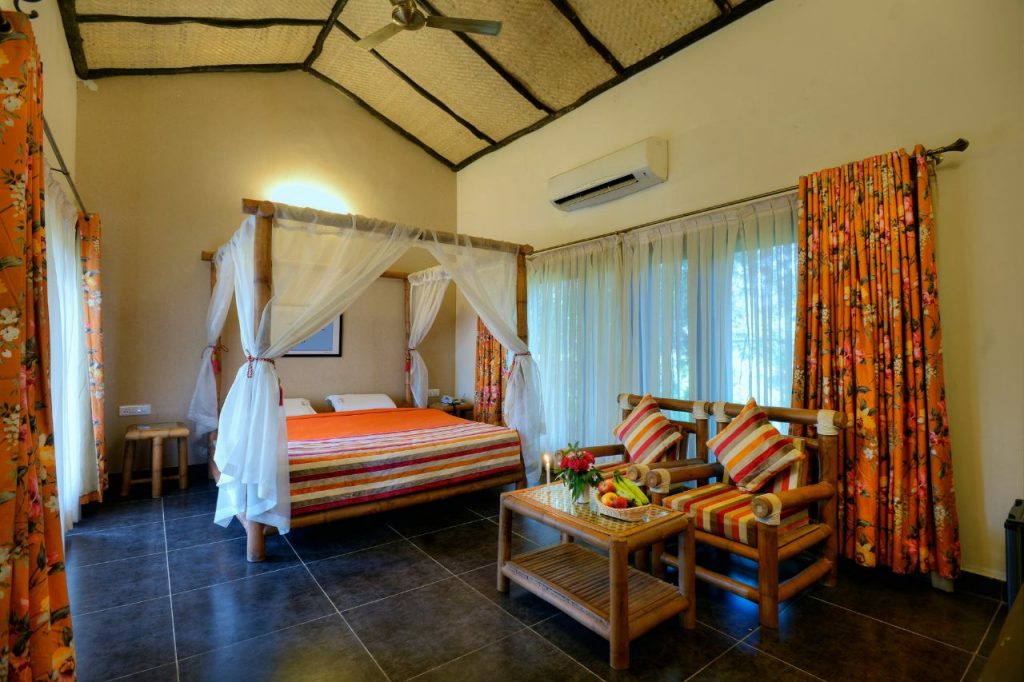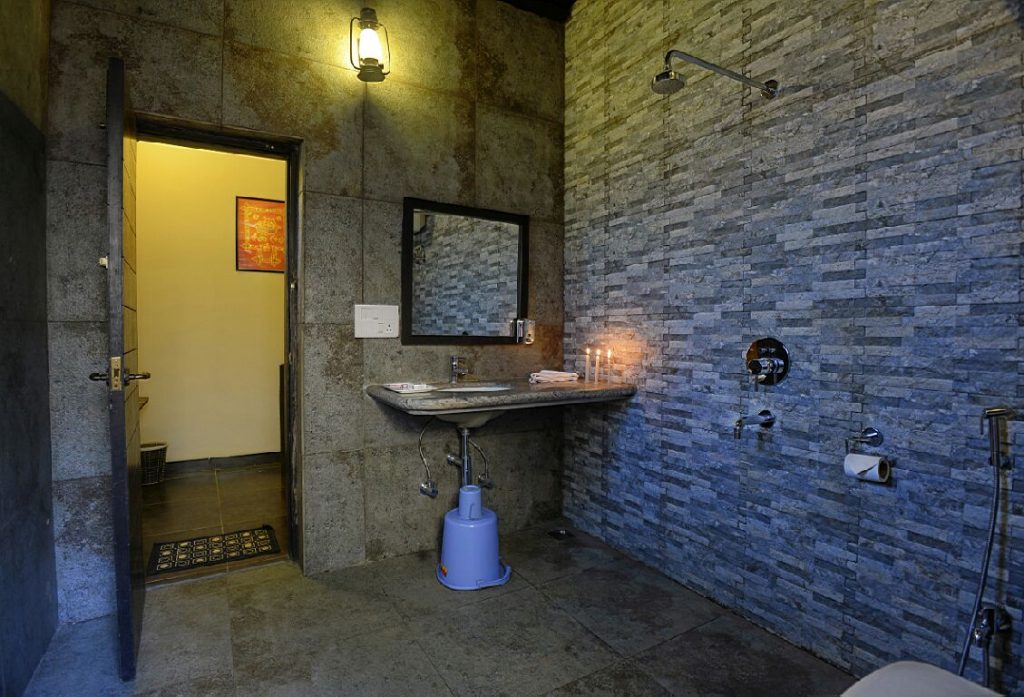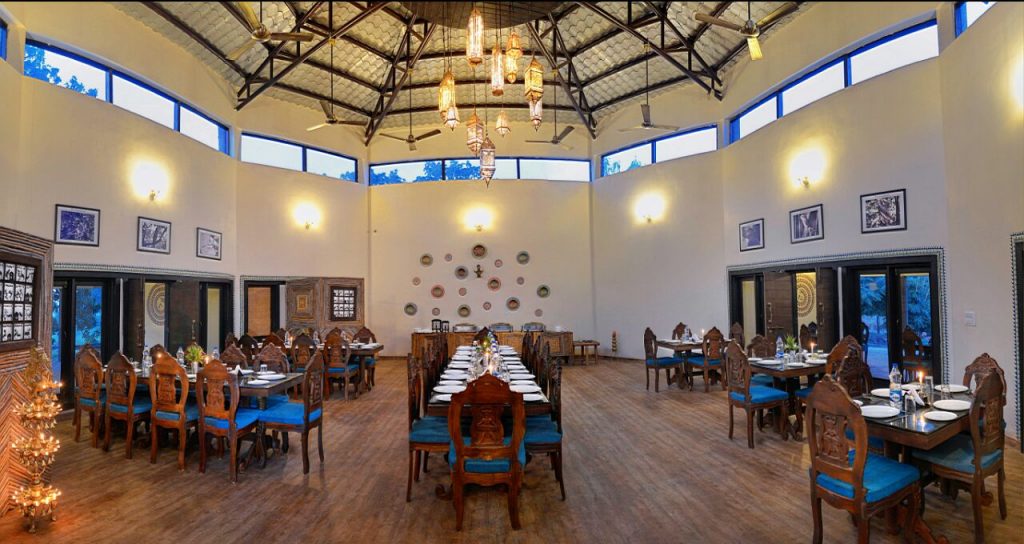 Anybody over the age of 18 (unless accompanied by an adult) and interested in nature and wildlife  will enjoy this Tour thoroughly. There are no other eligibility criteria.
Our Photo Tours are designed to provide you sufficient space for comfortable photography, so you can expect a maximum of three other people (including the participants and the Skipper) apart from the driver and the mandatory forest department guide.
For tigers and other mammals, a telephoto zoom lens in the range of 70 to 200mm/300mm or 100 to 400mm works very well. If opting for a fixed ('prime') lens, the 300mm focal length on a cropped sensor body with a 1.4x extender ('teleconverter') is the best compromise, although lenses of longer focal length can be used to good effect as well, especially on 'full-frame' bodies. For birds, a lens with a focal length of at least 400mm is essential. A wide-angle or normal zoom to capture landscapes or creative perspectives of wildlife is recommended. And since the light conditions in Indian jungles can often be challenging, an image-stabilized lens and a camera body that performs well at high sensitivities are perfect.