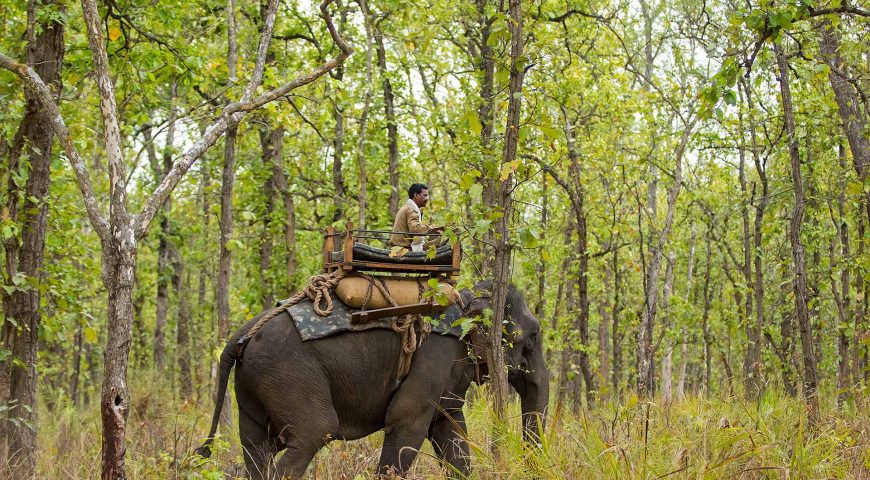 How to plan your first wildlife safari in India
How to plan your first wildlife safari in India
Planning for your first wildlife safari in India can be a daunting task, especially if you are new to the process. The fact of the matter is that with so many great safari spots in India, picking the best one for your first experience can be a little tricky.
So, to help out anyone who is looking to planning their first wildlife safari in India, we have put together an easy to follow guide for you!
Best time for safaris in India
Sightings in wildlife reserves depend a lot on the season you travel in so plan your dates accordingly. The timing of your trip will also depend on what wildlife you plan to see. If you are interested in sighting snow leopards in their natural habitat in the lap of the Himalayas, then the best time to visit is from October to February, when peak winters hit the mountains.
If tiger safari is what gets you excited, then you can plan your tours in summers or winters. It is said that during summers you may experience a greater number of sightings since tigers have to frequently move out in search of water. The sparse and dry vegetation in this season provides clear views over long distances and most animals make a bee-line for the water sources. On the contrary, in winters, you might catch a glimpse of the big cats marking their territories and engaging in courtship.
Monsoons are not a great time to visit the wildlife reserves as there is plenty of water everywhere, resulting in reduced movements of the animals. Also, due to the water availability, there is an increase in the greenery and due to long grass in the reserves, visibility is severely hampered.
Even if you are a birder, we recommend that you book your trips during summer or winters as monsoon rains hamper visibility and the lush greenery provides a good cover for all wildlife. It's hard to spot birds in the foliage so it's better you avoid this season.
Best Places to see the wildlife
It is estimated that over 50% of the tiger population lives in India and India is home to 50 tiger reserves! For tiger spots, you should visit places like Bandipur & Kabini in Karnataka, Tadoba & Nagzira in Maharashtra, Ranthambore & Sariska in Rajasthan and Pench, Panna, Kanha, & Bandhavgarh in Madhya Pradesh.
Across India, you can find hundreds of bird species and if you are an avid bird watcher then the period from October to February is a good time to be in the sanctuaries. You will be spoilt for choice when it comes to birding destinations in India and each state has something to offer. However, we have segregated the best ones accordingly.
Eastern India – Kanchendzonga National Park, Kaziranga, Nameri, Dirang, Neora, and Mishmi hills are places where you will find a wide variety of birds and very less human intervention.
Southern India – South India has the crown jewel of wildlife spots in India, the western ghats which are home to great spots like Mudumalai national park, Valparai, Munnar, Thattekad Bird Sanctuary, Rangannathittu Bird Sanctuary and many more!
Western India – The west too has some interesting birding spots and the best ones to visit are the Little Rann of Kutch, Nal Sarovar wetlands, Bhuj, Gir, Sewri Jetty Mumbai, and Karnala Bird Sanctuary.
North India – The north is blessed with the Himalayas and tons of migratory birds call it their home. Some of the best spots are Corbett, Sattal, Pangot, Chambal Wildlife sanctuary, and Keoladeo Ghana National Park.
Off late there has been a big increase in the demand for snow leopard tours and the Himalayan region is a great place to watch these elusive cats in their natural habit. However, sightings take time and luck plays a big factor. Snow leopards can usually be spotted in places like Hemis (J&K), Pin Valley (Himachal), Kanchendzonga National Park (Sikkim), Namdapha National Park (Arunachal) and The Great Himalayan National Park (Uttarakhand).
Bagheera has been part of popular fiction throughout our childhoods and the elusive black panthers have captivated the hearts of every wildlife lover. One of the best places to spot the Black Panther is the Kali Tiger Reserve in Karnataka, and these animals have been thriving here. These have been numerous reports of black panther and tiger sightings in the reserve so you can think about visiting this place as well.

How do you plan the budget?
Now that you have decided when and where to go, you need to consider how much you'd like to spend on the wildlife safari experience. Wildlife safari in India has a wide array of budget options – from budget-friendly campsites to the uber-cool, big banner luxury resorts. A major factor in deciding your stay and budget also depends on whether you need safari guides, and air-conditioned vehicles or you are willing to rough it out on your own. Guided safaris have their perks; your experienced jungle guides will know exactly when and where to take you for maximum chances of sightings.
Most upscale resorts are located in strategic points where sightings are highly probable; some of them within the resort itself! You will also need to determine how far the location is from the nearest airport/train stations as the further it is, the higher your transportation cost.
What to pack for a wildlife safari in India
Since most wildlife safaris in India are conducted in summers, you should be ready to be in the sun for a couple of hours. Here is a simple checklist of the crucial things you need to have before heading out into the wild.
Plenty of water
Good pair of binoculars
DSLR, if you have it otherwise a smartphone will do
Hat, dark glasses and suntan
Wear camouflage clothes, else something that merges into the surroundings
Shorts, tracks, and t-shirts are the best clothes to wear
Bug spray
Hand Towel
Researching online is well worth the time and effort, and working with a safari planner will ensure your safari is an adventure that you will remember forever. Plan it well and the journey will leave you wanting to go for more wildlife safaris in India!
We run many of these tiger safaris around the Indian subcontinent. Be sure to check out the tours that we offer.
Please let us know in comments, what are the dream locations you have in mind for India.
Share:
Kirti Ranjan is the co-founder of Safari Monks, a professional travel and guided photo tours company, designed to help you get the best out of your camera whilst exploring wonderful destinations. A professional photographer for over a decade, Kirti, enjoys photographing the surreal landscapes and wilderness in its real environment.