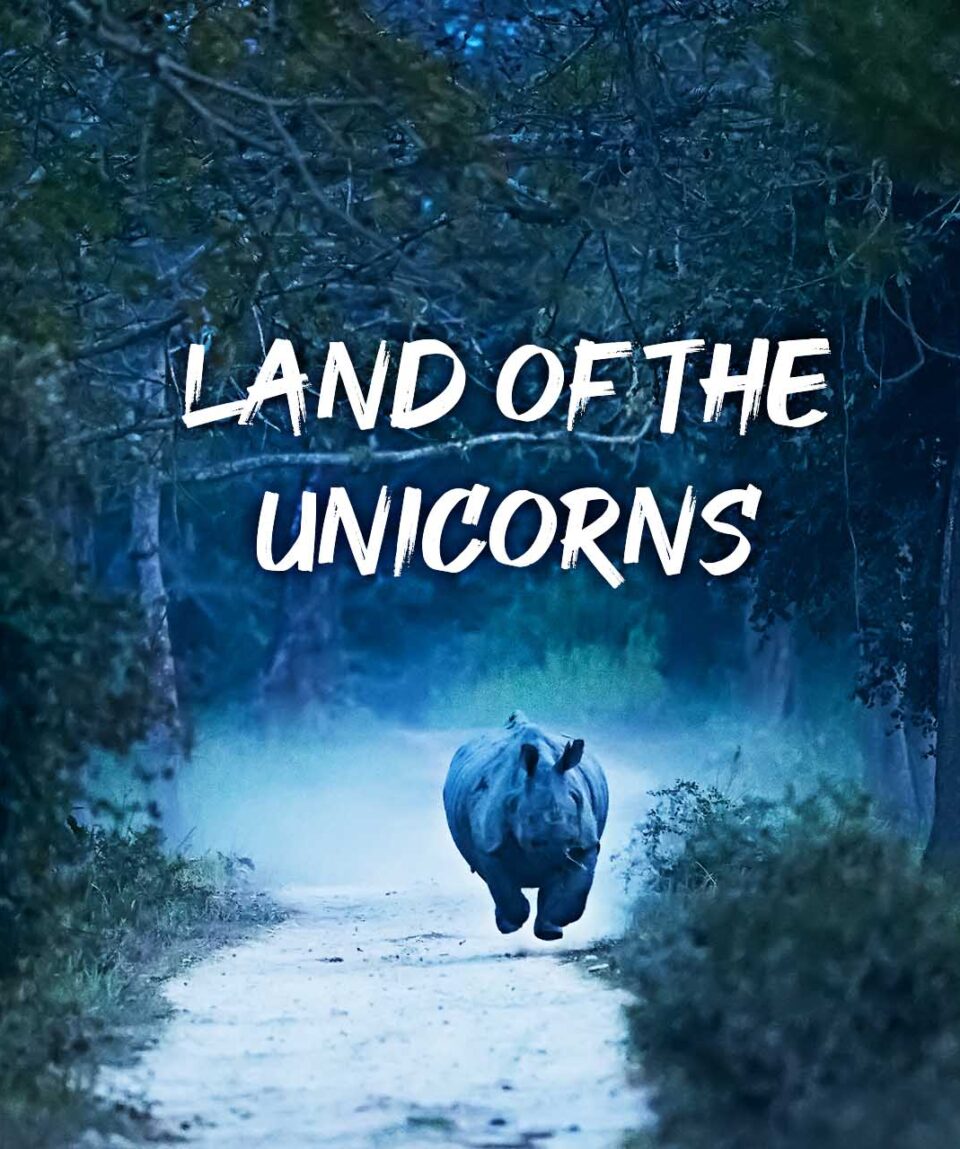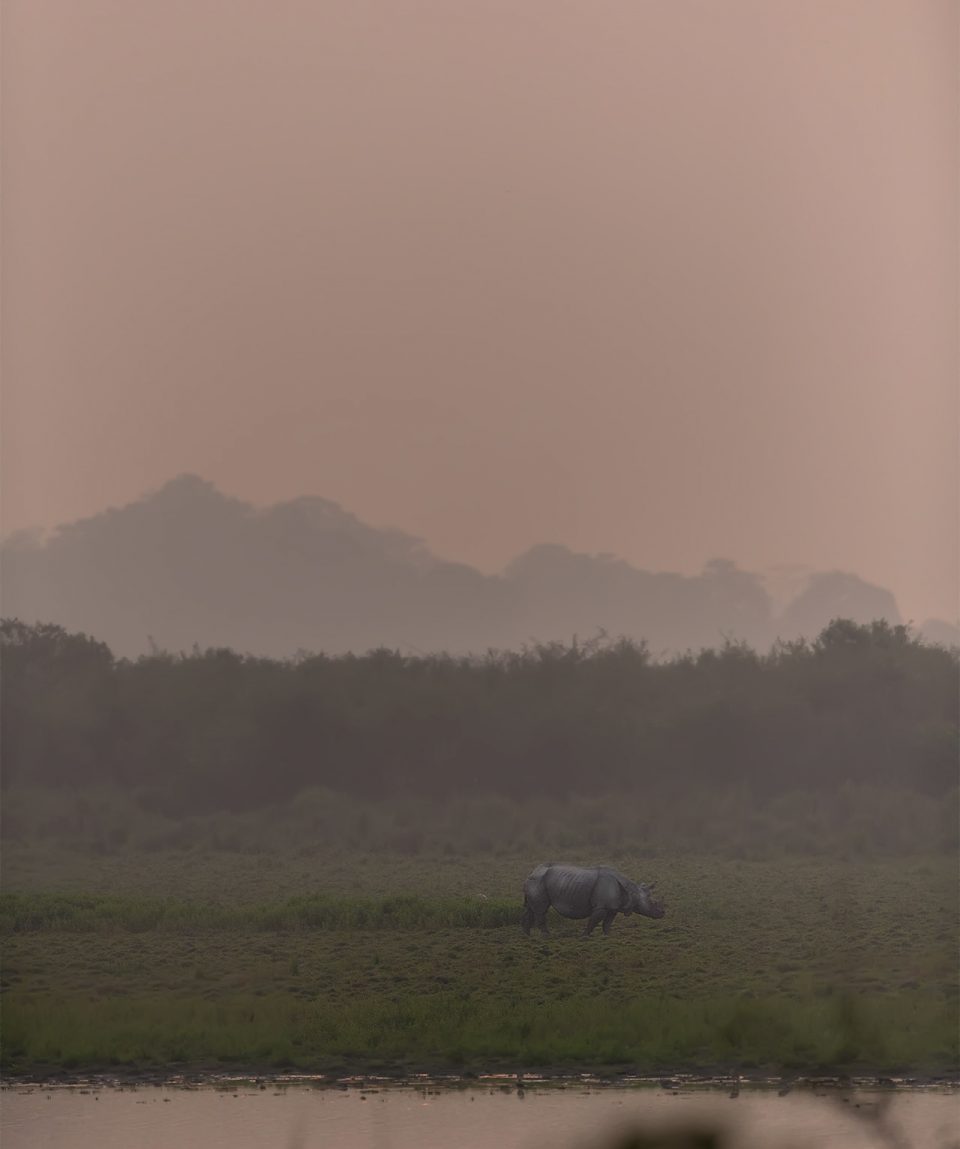 Kaziranga Rhino Trails

January 26th – January 29th, 2022
January 29th – February 1st, 2022
Witness the majestic giants in the grasslands of Kaziranga.
Drive with us to Kaziranga Tiger Reserve in search of the mighty Bengal Tigers and one-horned Rhinos.
Dates:  Batch 1: January  26 – January 29, 2021.
Batch 2:  January 29 – February 1, 2021.
Location: Kaziranga National Park
Vacation Style Holiday Type

Family, Photography, Wildlife
All about the
Kaziranga Rhino Trails

January 26th – January 29th, 2022
January 29th – February 1st, 2022.
In the heart of Assam's Brahmaputra Valley floodplain, lies Kaziranga National park, an area of wet alluvial tall grassland, numerous broad shallow pools with patches of deciduous to semi-evergreen woodlands.
The national park is a UNESCO World Heritage Site and is inhabited by the world's largest population of one-horned rhinoceroses, which was brought back from the brink of extinction at the turn of the 20th century. It was India's biggest conservation success.
Kaziranga also has significant populations of other threatened species including tigers, elephants, wild water buffalo and bears as well as aquatic species including the Ganges River dolphin. It is an important area for migratory birds.
Tour Highlights:
3 nights and 4 days in Kaziranga from:
March 29th-April 1st, 2021
and April 1-4th, 2021
All road transfers included in the Tour cost.
Chances of picturesque images of the great one-horned rhinoceros in their habitat.
Opportunities to encounter the elusive tigers of Kaziranga.
Extensive photography guidance and on-field assistance.
The tour package inclusions and exclusions at a glance
What is included in this tour?
Items that are included in the cost of tour price.
Twin-sharing accommodation in comfortable rooms unless single occupancy purchased at extra cost.
All meals (breakfast, lunch and dinner) and hot beverages (coffee and tea)
All entry fees, guide fees and safaris
Transfers from Guwahati Airport and back.
What is not included in this tour?
Items that are not included in the cost of tour price.
Any airfare
Any kind of personal expenses or optional tours or extra meals ordered
Insurance, laundry and phone calls
Bottled water, soft drinks and alcoholic beverages
Additional safaris into the park
Medical Costs
Tips and gratuities
All applicable taxes
Anything that is not included in the inclusions list
Day 1

Pickup from Guwahati Airport/Railway Station and Check in.

Participants reach Guwahati in the morning and the cab picks them up at a designated time and we drive to Kaziranga, in about four hours. After checking in, we are met by the Skipper and get to know one another.

Following an appetizing lunch and a round of mutual introduction, our Skipper will brief the group on the plans for the upcoming days. We learn about the natural history of the park and the tourist rules.

We proceed for early dinner and timely sleep is recommended to get up fresh for the action following the next day.

Day 2 & 3

Morning and Afternoon Safaris and overnight in Kaziranga

For the next two days, we follow the same schedule in pursuit of tiger photography opportunities.

After a morning wakeup-call and morning tea opens the day, we reach the park gate at the earliest possible and be one of the first to enter when it opens. This will allow us to look for pugmarks and other fresh signs of any tiger movement to track the big cats, and also put us in a vantage position for viewing and photography, should the tiger luck shines upon us. Tigers are at their most active during the early hours of dawn and late hours of dusk, so we seek to utilize the first hour of the ride to the most.

The morning safari lasts for four hours, giving us a chance not only to find tigers but also see and photograph many other inhabitants of this reserve. We head back to the resort for rejuvenating breakfast.

Lunch will be followed by the second safari. Afternoons are great for bird-watching, and while we wait for tigers to start moving, your Skipper will constantly monitor the situation and strategize with the guide and the driver to maximize the sighting opportunities.

After the evening round, we come back to the resort and have the photos review session. We then, go for a good night sleep after a lovely dinner.

Day 4

Check out and departure.

We get up and have a good breakfast. The last morning is for us to relax and enjoy the time around the resort. We are then transferred to Guwahati Airport or the railway station for the return journey to home with fascinating memories to share with our families and friends!
Our guests are drawn to the magic of nature, to the slow pace of life, closeness to the natural world and to the relief from the pressures of modern living. It is a completely a zen experience for our guests – right from the time of arrival till the final farewell to enjoy some luxury afforded by an exceptionally great location which is harmoniously blended with its natural environment. A warm & traditional guest welcome by the staff is just the beginning of a memorable vacation ahead.
The resort, set in the midst of a thick bamboo grove, together with a wide variety of medicinal plants and a plantation of betel nuts and fruit trees. Its architectural design is reminiscent of old Assamese houses which were in the past, set atop bamboo stilts. This exquisite Kaziranga resort is further enhanced by a beautiful lake next to it.
These luxurious 16 guest rooms create a fascinating Assamese ambiance with its high sloping roofs, traditional handmade walls, tall, flood proof stilts and bamboo furniture – all blending with the local architecture and totally in harmony with nature.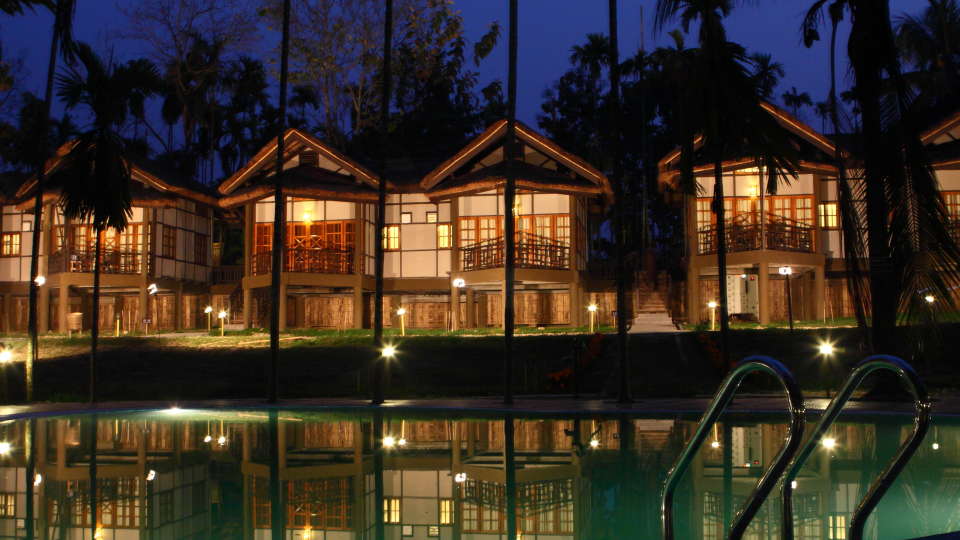 Anybody over the age of 18 (unless accompanied by an adult) and interested in nature and wildlife  will enjoy this Tour thoroughly. There are no other eligibility criteria.
Our Photo Tours are designed to provide you sufficient space for comfortable photography, so you can expect a maximum of three other people (including the participants and the Skipper) apart from the driver and the mandatory forest department guide.
For tigers and other mammals, a telephoto zoom lens in the range of 70 to 200mm/300mm or 100 to 400mm works very well. If opting for a fixed ('prime') lens, the 300mm focal length on a cropped sensor body with a 1.4x extender ('teleconverter') is the best compromise, although lenses of longer focal length can be used to good effect as well, especially on 'full-frame' bodies. For birds, a lens with a focal length of at least 400mm is essential. A wide-angle or normal zoom to capture landscapes or creative perspectives of wildlife is recommended. And since the light conditions in Indian jungles can often be challenging, an image-stabilized lens and a camera body that performs well at high sensitivities are perfect.