Velavadar Trip – A rendezvous in the wild!

Located in the state of Gujarat, lies the grasslands of Velavadar. It is around 600 kilometres away from the busy streets of Mumbai. Home to the Blackbucks and a variety of species, this is a true paradise on Earth.
With family and a few friends, I packed my bags and camera and set out on a roaring rendezvous in the chilly month of December. The biggest roosting site of the harriers, Velavadar was a treat for my sore city eyes. Although in our first safari we managed to see only a few blackbucks. But, the feeling of being amidst nature and away from the hustle and bustle of the organised chaos of city streets was like an oasis in the desert. The one cardinal rule of the jungle is that never anticipate or expect anything. Always accept all that Mother Nature offers and you will never be disappointed.
On our first day in this lovely park, we visited a small lake. Around it, we found many Great White Pelicans, Painted Storks, and Flamingos and of course the Common Crane. Photographing these birds was a real delight.
After spending two days, on our last safari, we saw the king of Velavadar's Blackbuck National Park, the Indian Striped Hyena. After tracking this female for almost one hour we found her lazing amidst the grasses.
A surprise from Velvadar trip:
Filling my camera with a series of images we continued ahead on our track when our guide Ramzan told me to look on my right. With bated breath, I turned to see the elusive Jungle Cat sitting and posing beautifully. But I guess, Nature had more in store for us! Since this cat was just sitting, I decided to take a look at my images. But then, all of a sudden this little predator took 3 leaps into the air to catch a rat. I was spell-bound! Though I cursed myself for not being able to record it on my camera, it will always remain etched in my memory. Nature has always something extraordinary to offer!!!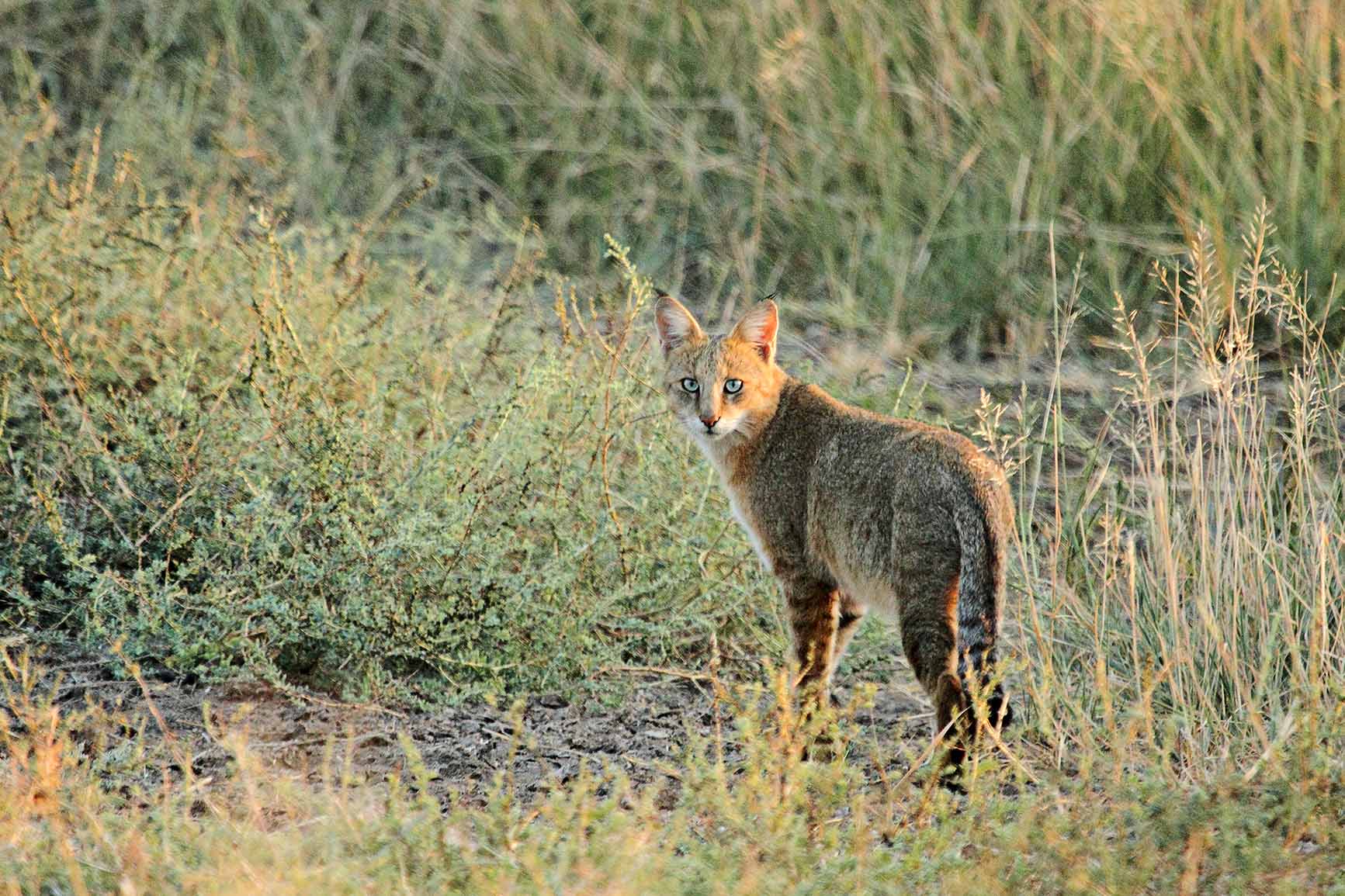 With a heavy heart, we were returning to the Velavadar park gate when we chanced upon a lone Jackal. The last day was truly memorable. Mother Nature had not only blessed us with some amazing mammal encounters but also with avian beauties. The Indian Roller, the White-eyed Buzzard, Indian Spotted Owlet, Tawny Eagle, Short-toed Snake Eagle, and of course all the species of the Harriers. Though I knew that I will be going to Gir the next day, I did not want to leave this heaven. And this trip will be the most memorable one I have ever had as this was my first visit to this beautiful mini Savannahs and I returned with not only images but memories to cherish for a lifetime.
We run many of these safaris around the Indian subcontinent. Be sure to check out the tours that we offer.  Please let us know in comments, if you have been to this park and how was your experience if you did.
SHARE THE ARTICLE
Aishwarya is a die hard nature lover. She focuses on making documentaries on conservation projects. Many of her documentaries have been aired on national television. Apart from being a wonderful photographer, she is a brilliant orator. She visits educational institutions and delivers insightful speeches on awareness and educates about importance of nature and wildlife.